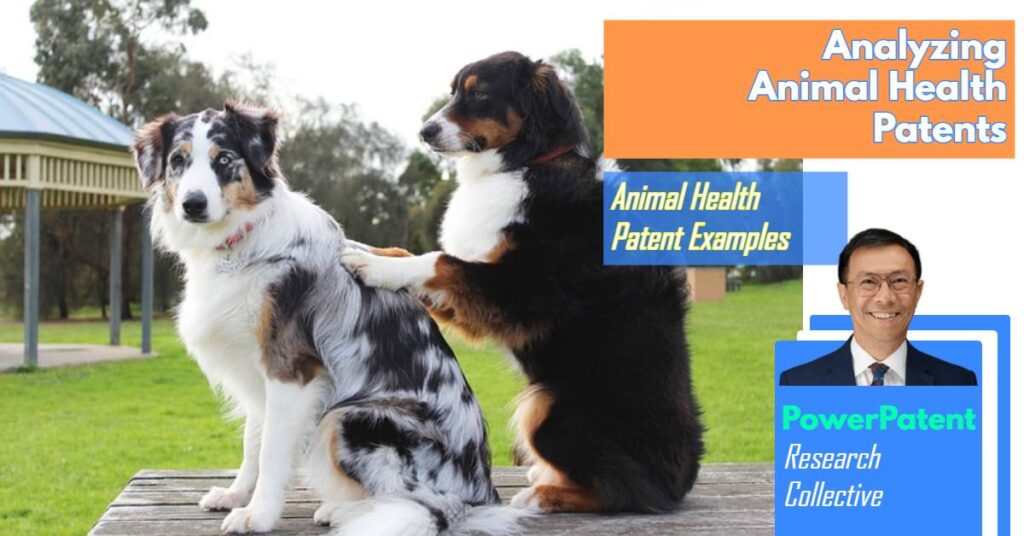 There are over 7,000 patents in the US that relate to animal health. This research provides information on the most recent trends in patenting and other activities related to animal health in the US, as well as the latest examples of animal health patents.
Our animal health patent examples revealed that there was an increase in specialty breeds as the latest trends. There were over a thousand animal health-related patents issued in the US in 2018.
Animal Healthcare Process
The diagnosis and treatment of veterinary animals is called animal health technology. Veterinary technologists administer medication to sick animals and perform laboratory tests. Additionally, veterinary technicians also care for sick animals. Additional training may be available for veterinary technicians in other areas that could increase their earnings.
Laboratory tests are performed by veterinary technologists
To help veterinarians diagnose diseases, veterinary technologists may perform laboratory tests. They can test blood, urine, and feces as well as other fluids. They are vital to the animal's health. This occupation requires a high level of expertise and complex machinery.
They are vital to the ability of a veterinarian to give proper diagnostic care to animals. They must be licensed and adhere to state-specific requirements in order to perform these tasks.
Veterinarian technologists could also be involved with veterinary research. They must also know how to properly use laboratory equipment and how to handle laboratory animals. Technicians must be able to communicate the necessary information and perform therapeutic procedures.
Many veterinary technologists work in private clinics and research facilities. These laboratories often have specialized equipment and staff who are trained in microbiology.
The typical tasks include administering medication and nursing care, as well as assisting with surgery. Technicians must be flexible and adhere to strict ethical guidelines when performing this work. Additionally, veterinary technologists need to be able to understand the appropriate dietary components for different life stages.
Working knowledge of animal welfare regulations at the federal, state, and local levels is essential for veterinary technologists. This is why veterinary technicians must be certified and examined.
Although many veterinarians perform their own laboratory testing they also have access to outside labs. These tests can be more thorough than those performed at a veterinarian clinic. Ear cytology is one example. This helps to diagnose the source of an ear infection. Similar tests can be found in the veterinary clinic.
The owner is responsible for the responsibilities of veterinary technicians. They must, for example, determine if additional lab tests are necessary and communicate the correct methods and forms. They must also reinforce the owner's compliance to their responsibilities.
Veterinarians may need to call in a technician to assist them with euthanasia. A technician might be needed to examine the animal and take note of any signs of pain. The technician will examine the specimen under a microscope.
They give Medication
A veterinary dentist assistant is someone or a group of people who take care of pets' oral health. They can operate diagnostic imaging equipment, check to see if there are parasites, and teach their patients about proper dental hygiene. They are an important part of the animal's health care team, but they cannot replace their primary veterinarian.
They are found in all veterinary practices, from small animal hospitals to large animal-centric medical centers. They can handle incoming calls, answer medical questions, or assist with surgery and diagnostics. They are responsible for administering anesthesia and managing patients afterward. Their primary task is to ensure that their patients are comfortable and in good condition. They may also be required to assist with advanced surgical techniques, such as administering anesthesia or grooming.
Although they might not be as well-known as a veterinarian, they still have to take care of the medical needs of many species. Aficionados of animal health technology are often well paid and rewarded for what they do. The medical industry is an expanding sector. There is always a demand for qualified personnel. You can expect a substantial paycheck and benefits like health insurance, paid vacations, and many more. The camaraderie among professionals may make the job more rewarding for some.
It doesn't matter if you land the top gig or just a few referrals. The most important thing is to stay focused. You are vulnerable to being attacked by the animal that you are protecting, as with all professions. Protect yourself by having a first aid kit, antibacterial soap, and sturdy work boots.
They comfort and feed a sick animal
The potential for digital animal health technology to revolutionize the way we eat meat and make it more humane is a great opportunity. It can provide the necessary immunities and help to improve our food security and reduce costs and losses associated with various disease outbreaks. Already, the technology has had a significant impact on both small and large farms.
One of the most fascinating aspects of the digital revolution is the new technologies that can be applied to animals. For example, Molecular diagnostics have opened up a wealth of new tools to track and monitor health conditions. The veterinary trade has also begun to incorporate new technologies such as machine learning and artificial intelligence into its core processes. These innovations have enabled better care and opened up new possibilities in the form of personalized milk and meat products as well as improved conservation methods.
Despite all this, there have been many technological missteps in the digital age. Many of these digital wonders are still in the early stages, so it's not surprising that they're still very much in their infancy. Some are in clinical trials while others are just starting to be tested. Governments must make sure they are investing in these exciting new technologies. They need to provide the capital through incentives and regulation. They will make the world a better place for people and animals.
Small and large farms have both begun to reap the rewards of using the most recent digital technology to power various animal tracking devices. Improved diagnostics make it much easier to find a sick animal and reduce the risk of losing them.
Animal Digital Health Tech
There are a few things to remember if you're thinking about starting a business in digital animal health tech. It is not easy to set up a business in this field. If you want to succeed in this industry, you will need to know how to best manage your assets.
Telehealth
Telehealth tech is gaining popularity in the pet industry. Video conferencing is one of the most popular forms of telemedicine. This allows veterinarians to remotely examine pets. This technology can also be used to perform routine follow-up visits and post-surgical checks for chronic diseases.
This technology is a huge opportunity for veterinary technicians. A recent survey by the Veterinary Innovation Council revealed that 26.4% reported having never used telemedicine before. This is why telehealth adoption will rise over the next few years.
Telehealth for veterinary practices is a way to reach more patients. With just a few clicks, a telehealth app allows a user to connect with their vet. They can also share images of the incision site and communicate changes to treatment plans.
Some veterinary telehealth businesses are business-to-business, while others are direct to consumers. Telehealth services can be provided in many ways, including texting and live video conferencing.
Consider the advantages of both synchronous and asynchronous communications when choosing the right telehealth tool. Asynchronous technology allows for the accumulation of patient information, while synchronous technology allows clients and patients to share their health information.
Telemedicine has been used in the medical industry for decades. However, new technologies allow for more advanced care. Wearable biosensors can be used to transmit data to mobile health applications.
E-prescribing is another type of telehealth that will replace prescriptions. Some e-prescribing requirements can include controlled substances, depending on the state.
It is now possible for veterinarians to share photos, X-rays and other information with their clients using digital communication technology. You can also share test results.
Wearable sensors and monitors
The rapidly expanding market for wearable monitors and sensors to assess animal digital health is a fast-growing one. These devices can be used to monitor vital signs such as temperature, heart rate, blood pressure, and respiration. These devices can also be used for detecting changes in behavior.
The market for wearable sensors is fragmented. There are many players in the market, including Monnit and Vital Herd, PetPace and Sol Chip, Connecterra as well as AGL Technology and Inovotec Animal Care.
A number of investment companies are also investing in the market. This encourages research and development. The increasing incidence of zoonotic disease is one of the main drivers of the market for wearable sensors for animal digital health.
The livestock industry can also be expected to see a significant increase in wearable sensor sales. Studies have shown that animal sensors are useful in diagnosing livestock illnesses. This technology can also minimize economic loss.
The market for wearable sensors in animal health management is highly fragmented at the moment. It is expected to grow steadily over the next ten years. The market's major contributors are North America and Asia Pacific.
These devices are also becoming an integral part of large industries such as the veterinary medicine industry. These devices provide pet owners with peace of mind, and veterinarians can monitor their pet's health in real-time.
A new robotic feeding system, for example, uses electronic ankle bands to communicate and interact with sensors on animals. The data can be used for monitoring eating habits and milking patterns.
A sensor from Imperial College London can also detect heart rate changes in chickens. Another sensor monitors the presence of blood-sucking mites in chickens.
AI-powered software systems and programs mimic human thought
It is not necessary to be the most advanced in AI. It's possible to combine machine-generated data with human-computer interaction by using a mixture of both human and machine data. A slew of wacky, self-declared geniuses has been aggressively playing with the fancy stuff despite the challenges. It remains to be seen if the new breed of intelligent machines will make it to the next level. The resulting flurry is likely to continue for many years. Like any new product, there will be fierce competition. This sandbox can, however, be a fertile ground for innovation and serendipity. With the right combination, the right people, the right tools, and the right resources, we can imagine a new era in health care where patients are responsible for their own destinies. Patients will be able to benefit from the most recent in convenience and scalability by using modern tools. Patients will enjoy a personalized healthcare experience that is free from the hassles associated with being the center of attention.
Remote monitoring technology
Remote monitoring technology for animal digital health is emerging as a solution to the challenges in livestock farming. These technologies are used to monitor changes in an animal's health, prevent loss of life, and minimize economic losses.
Digital technology has made animal monitoring easier. This includes advanced molecular biology diagnostic methods and nano biosensors. Farmers can quickly obtain valuable information about their animals using these technologies.
Many innovative sensing devices are being tested in animal models. Some of these devices are embedded just a few millimeters into the skin. Others are used to monitor temperature, behavior, motion, and other factors.
Pet owners and veterinarians can have peace of mind knowing that their pets receive the best medical care through wearable technology. Cloud software allows veterinarians to access data from wearable devices.
Wearables can detect body temperature, stress, analytes, and pathogens. These devices are not meant to replace a physician's physical exam. They are an early indicator of disease for clinicians.
Farmers need to create a reliable and efficient system that monitors and controls the health of their animals in order to meet growing demand. It is crucial to detect the early signs of disease in order to reduce its spread. It can also help to reduce social consequences.
Wearables and other devices that allow monitoring of farm animals can make a significant contribution to a healthier environment for the animals. They can be used to provide faster medical assistance and help animal owners do more with what they have.
These technologies could revolutionize animal health management. Over the next ten year, the global market for this industry is expected increase to $2.6 billion.
Implementing IoTAH in animal care is difficult
The Internet of Things (IoT), has been a major player in animal health care. Wearable technology allows veterinarians to monitor pet behavior and track vital signs.
IoT is still a new concept but it does have its advantages. This technology has the potential to improve animal welfare and decrease the need for veterinary visits. It does have its downsides. The greatest challenge is the high cost of IoTAH implementation, especially when compared with conventional solutions. Security concerns are another concern.
However, wearable technology is becoming more popular. Vets and pet owners are now using it to improve their lives. These devices can be equipped with ingestionible sensors, which allow them to monitor heat, vital signs, as well as food intake. Others can be used to help veterinarians detect stress or pain.
The potential of the animal Internet of Things is undisputed. It not only improves animal welfare and reduces veterinary visits but it also provides a way to efficiently gather data about animal behavior, health and other aspects. It could revolutionize animal healthcare if implemented correctly.
Farmers and veterinarians can both benefit from the use of wearable devices that detect disease in real-time. This device will allow veterinarians to make the correct diagnosis and decrease the chance of infection. A wearable device that monitors a cow's heart rate can tell you whether the cow has heartworms. This device can also track the cow's movements and could be an invaluable tool for farmers who want to increase milk production or cut down on costly veterinary visits.
Animal Health Patenting Trends
In the US and Europe, animal health patents have been increasing over the past several years. The recent rise in animal health patentability is an indication of the growing realization that innovations in this field could have a significant effect on animal and human health. Over the past decade, the US Patent and Trademark Office noticed a rise in animal health patents.
This includes:
New Mechanisms for wound healing
The effectiveness of xylitol (a natural sugar) on dental plaque.
A new drug to treat bacterial infections in livestock is being tested
Animal Health Awareness and Its Effect on Patenting in Industry
The US Patent and Trademark Office (USPTO), recently published its annual report on Animal Dissector Book. The Animal Dissector Book contains all US patents relating to animal health.
A growing awareness of animal health in America is driving increased demand for veterinary services. Pet owners are increasingly looking for human-like interactions with their pets.
As more States adopt plans to combat zoonotic diseases such as rabies and influenza, awareness of animal health is increasing in the United States.
The Trend around Animal Health Patents
There has been an increase in awareness and treatment for animal diseases in the United States. This includes lameness, skin disease, reproductive disorders, and skin conditions. This is making it more difficult for owners to take care of animals that require specialized care and are more costly to treat.
American pet owners are more aware of their animal health and have created the need for specialized veterinary care for them. The future is bright for pet-related businesses, particularly those that are focused on improving the quality and life of pets and their owners by providing preventative care.
With over 70 million dogs, the US is home to the world's largest domestic dog population. The number of pet owners is increasing every year. This means that there is a growing market in pet products and care.
Pet owners around the world are becoming more conscious of how important it is to maintain their pets' health and well-being. It is vital that animals are healthy and able to work and earn income, as they provide many valuable services to society.
The US issues animal health patents that provide better treatment and a better quality of life for animals.
Pharmaceutical patents are patents that cover animal health. These patents can be used to treat horses or livestock such as vaccines against equine infectious disease and foot-and-mouth disease. The US animal health patents ease the burden of research and development of new medicine.
The US has animal health patents that protect innovative products from imitation. You can use trade secrets but it is better to combine both, especially if your innovation is more tech-related.
A patent holder also has the ability to monitor potential infringements and collect data specific to the market niche in order for the product's marketing. Researchers and the general public can benefit from US animal health patents.
You can see this in the way that research and development helps to develop new treatments, vaccines, and diagnostic methods for animal disease.
What We Can Expect from Analyzing Animal-Health Patent Examples
It's the future of animal health, and it's big. Animal health patents are gaining popularity as they provide solutions to many diseases that could otherwise impact food products and livestock farming.
Although the future of animal healthcare looks promising, there are important issues that need to be considered before it becomes a common practice. It can take up to 10 years for new products to be approved by the United States regulatory system.
Given the recent developments in the US animal health patent arena, it is likely that there will be more competition between manufacturers to ensure sufficient new products to satisfy demand.
Though it is arguable whether the rise will continue due to a gradual change to towards alternatives, including natural remedies or other approaches to prevent and treat disease in animals. Nonetheless, it can be noted that animal health products are important, which is why investing in technology and innovation surrounding digital healthcare makes those products even better.
Why PowerPatent?
Strong patent protection is essential in today's highly competitive marketplace to bring animal health products to the market. We are familiar with the risks and challenges that clients in the animal healthcare industry face. We have a depth of experience helping animal health companies strategize, build and enforce worldwide biotechnology and pharmaceutical-driven intellectual property portfolios.
Our team is made up of professionals who have received advanced academic training in areas like chemistry, pharmacy and molecular and cell biology, genetic engineering, and immunology. This mix is exactly what animal health clients need.
We use all available IP options to protect our clients' products.
Our experience includes:
Drafting and prosecuting patent applications
Interviews with patent examiners
Negotiating licenses
Enforcement of patent rights in ITC litigation and district court
Assisting in contested post-grant proceedings before the PTAB
Provide opinions on patentability, validity, and infringement
Establishing company-wide IP guidelines
Conducting IP audits
Conducting IP due diligence investigations
Valuation of IP
International protection strategy